Purpose
This is a great drill to develop and hone hand-eye coordination.
Drill Setup
Batter gets in stance.
Coach or another player stands in front.
Instead of balls, you'll be using bottle caps
How it Works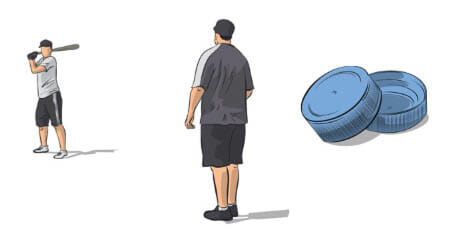 Coach or another player throws a bottle cap or small plastic golf ball to the batter who attempts to hit it with a regular bat.
Repeat.
Coaching Tips
Bottle caps in particular provide a lot of movement – they can dip, tumble, curve. Batter needs to really keep his eye on the target.
Number one goal for this drill is for the batter to make contact.
This is a difficult drill so encourage players – if they can hit a bottle cap then a ball is going to seem much bigger and easier to hit.