Purpose
Teaches batter to hit the curveball.
Drill Setup
Batter gets in stance in front of net.
Coach kneels or sits to the side of the net and the batter.
Use a soft baseballs or tennis ball to protect the tosser.
How it Works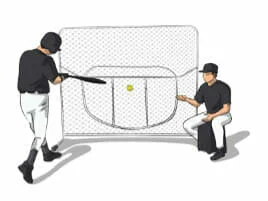 Coach flips the ball with an arc to simulate a curveball.
Batter hits the ball on its way down.
Repeat.
Coaching Tips
Make sure batter is going into trigger stride position and then waiting on the ball and hitting it as it is coming down.
This flip should have more height on it than a regular flip to the batter. Flatter flips simulate a fastball, flips with more arc simulate the curveball.