One of the most important things to focus on when focusing on baseball coaching is the swing itself. During today's blog post, we're going to talk about the first stage of a successful bat swing.
The Stance
We'll go through the whole stance and we'll talk about things I think are very critical for you to become a better ball player.
First of all, when we get in our stance, what we like a hitter to do is get himself in a comfortable position. When we talk about hitting, you talk about building a house and you start with your foundation. When you talk about hitting, it's the same thing, start with your foundation.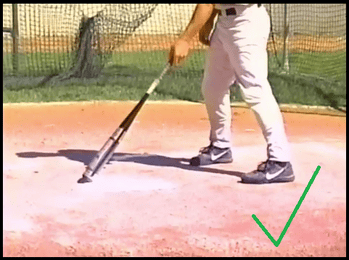 So we start with our feet first. Your hitter should make sure when he gets in there he's comfortable, but he also wants to make sure he has good plate coverage.
What we like to do is take that bat and lay it down so the hitter can touch the outer part of the plate. If he can do this, he's got good plate coverage. Then what we're going to do first is take a look at the feet after he's got a good stance.
We want the feet outside of his shoulders. He wants to let his lower half of   my body really help him become a better hitter.
I can really tie myself up in the lower half of my body if my feet are working the right way and aren't spread out. So the first thing your player should be concerned about is getting his feet outside of his shoulders, giving his lower half enough room to work correctly in the swing.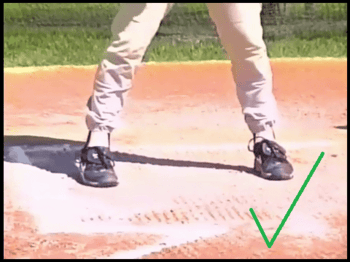 Some hitters have a tendency to take their feet and set up with their toes pointing out. Their weight's on the outside of their feet and over their heels. It's not a very athletic type of swing being produced by having your feet in this position.
And it's a personal thing as far as what the hitter's going to do. Some might have him turn in a little bit more and some not.
What we like to do is just have our feet turn in just a little bit, where the weight goes on the inside of our feet and over the balls of our feet and get it off the heels.
Now we'll move up to the knees. When you talk about hitting, you hit like you walk. You walk talk and nice and easy, it's relaxed and it's a nice motion where you don't have to work at it very much. You just lift your knees or bend your knees as much as it takes to take the next step. That's the same thing that you're going to do when you hit. You want to get in your stance, bend your knees slightly so you're comfortable just like you would be when you're walking. You also want your eyes parallel to the ground.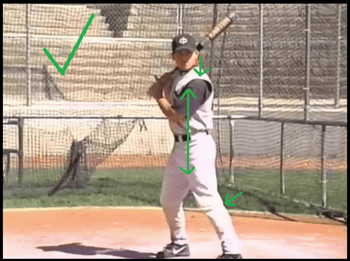 When we talk about the whole stance, we want to make sure that our knees are bent slightly and we stack everything on top of each other. Each part of our body is stacked up and down.
We stack our hips over our knees. Again, we're going to bend at the knees, not the waist. When you bend at the waist, some problems automatically happen.
If you take a hitter and compare him to an ice skater, when an ice skater goes into the rotation and their spin, you'll notice that their arms are close to their body. And when they're rotating in that fast spin, they are straight up and down; they're not leaning over. They're vertical, and they can rotate very fast because of that.
Now if you take somebody and tip them over a little bit, what happens is you interfere with that body's tendency to try to rotate and to rotate quicker. What we want to do is keep from getting in the way of that happening. So we're going to stack our body pretty much vertical, and try to minimize how much we bend at the waist.
This is just part one of our series on how to achieve the best hitting stance. Come back next week for part two!
Do you spend a good amount of your baseball coaching time and team practices going over stance and other mechanics? Why or why not?