Using the running ladder is a great way to improve everything from conditioning, to speed, to quickness, coordination, it covers it all – that's why it's a must have for my baseball practices. There are a huge variety of drills that you can run through, and coaches are always coming to me with their new and innovative ways of using the ladder, so if you've got any you love, make sure you let us know in the comments section below!
The running ladder, if you're not familiar, is a flat rope ladder that you throw down on the ground. Next, you have your players line up at one end of the ladder, and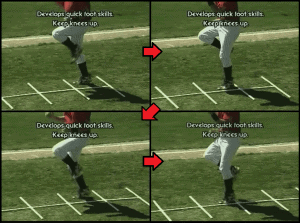 then you let them loose!
One Foot in One Hole
To start, give them an easy one, and progressively make them slightly more difficult. This first technique is simple, have them run through, staying on one side, and touching down one foot in each hole as they run through. Have them jog through the first couple times to get used to it, and once they have the technique down, have them compete! See who can get through the fastest without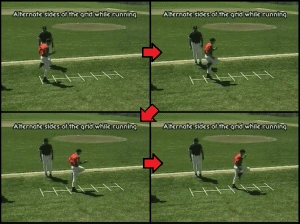 stepping out of bounds!
Two Feet In One Hole
This one is a little bit tougher. They have to really work their feet up and down here – they're going to be putting both feet down in each hole before progressing to the next. Same as before – start off slow, and then make it competitive!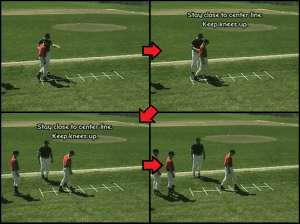 Alternating Sides
Once they've gotten running through on one side down pat, have them run through, putting one foot on the right side, and the next on the left, alternating back and forth through the entire ladder!
Duck Walk
Now it's time to test their coordination! In the duck walk you're alternating sides – but instead of putting your left foot on the left side, they're going to put their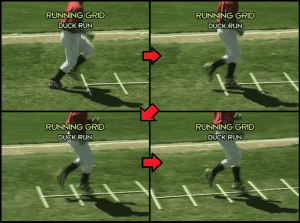 opposite foot. This forces them to rotate their body and concentrate just a little bit harder. Your players still will probably think this is easy, until they have to try out the …
Duck Run
The same idea as the Duck Walk, except they're going to be doing it at a full speed! This one is pretty tough – challenge your players to see who can figure out the rhythm!
Now that your all warmed up, why don't you take a look at some of my favorite baserunning drills! And don't forget to check in at the Baseball Tutorials Facebook page!