During this blog post, I'm going to go over several baseball conditioning drills that are great for working out your players and getting them ready for the big game.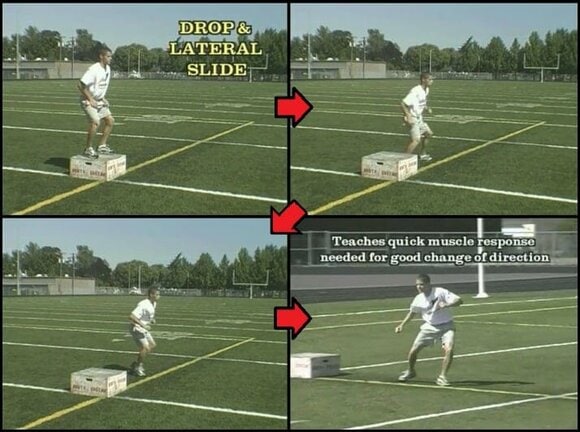 Drop and Lateral Slide
This baseball conditioning drill uses a box.
Here we want to use the stretch reflex of the drop off the box and go right into a lateral slide and push. This teaches that quick muscle response that we need.
Remind your players to push away from the way they want to go and to try and stay on the front part of the foot, pick up the toes and pull them up toward the shin so that they bounce off the ground.
They shouldn't reach with the heel. That makes a slow, long lever. Instead, they should pull the toes up and push. Also, remind them to keep the back flat and to suck in the belly button while tucking in the lower back for a solid core.
Make sure that they balance out the body by working each direction.
Free Jumps and Hops
Here we want to work on our quickness using a little plyometrics.
Ankle Flips
Tell your players to keep the body tall and straight as they jump, springing from foot to foot.
They should also pull the toes up and bounce off the front part of the foot. It's like a springboard. They want to get that springy, bouncy action. This teaches the foot to put more force down into the ground.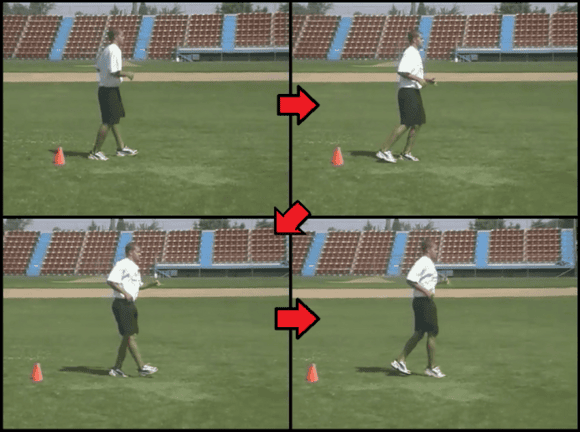 Ankle Skips
This baseball conditioning drill is done in the same body position as the Ankle Flips–tall, legs straight.
They're going to pull that toe up and do a skipping rhythm. It's a two-bounce–pull the toe up, snap it down to the ground. This gives us that bouncy, quick feel that we need to respond to the stimulus of the ball.
We want to have more time to concentrate on making great throws. This'll help to get us into spots as fast as possible. This'll give us more time to hit the people we need to with cutoffs and at the bag.
Pogo Hops
We want to get a good pop off the ground here. These are quick little jumps, pulling the toes up and getting off the ground.
We want to have a little bit of explosiveness in there. Remind your players to keep the hips tall and lock in their posture.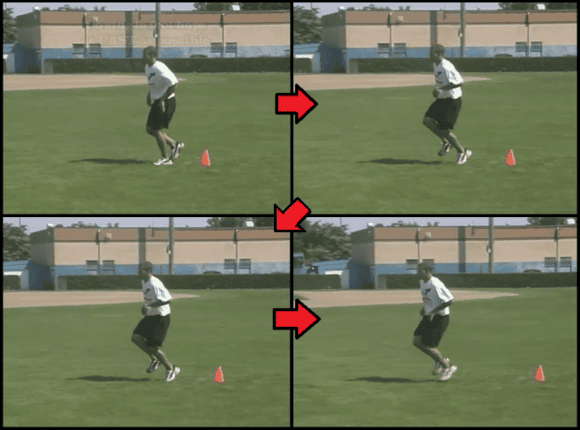 Russian Short Hops
With this baseball conditioning drill, you players will bend the knee and the hip and then execute rapid fire hops. As fast as they can pick the foot up, they should be putting it back down.
Down and back is one repetition. Have your players do three sets of three repetitions.
If you think your players will benefit from this collection of baseball conditioning drills, head over to my YouTube page to check out some equally helpful videos!