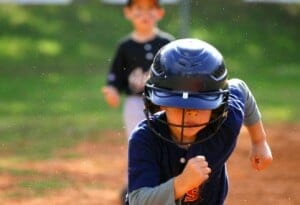 One of the drills we do a lot is on base running. This is all done at full speed. You can get many reps in and lots of teaching opportunities.   It also gives you a chance to work on different leads with kids and talk about you base running philosophy as well as situations.
Base Running Drill
We make sure all the bases have an equal number of boys at them.
there is a runner on first (who takes his normal lead), a runner on second (we work normal leads and two out leads here), a runner on third, and two runners at home.
I put a coach on the mound to simulate a pitcher and everyone gets their jump off of him(we switch between lefty and righty).
The kid on first goes first to third (looking inside at 3rd step to locate ball, and then picking up the 3rd base coach when necessary).
The guy on second goes home taking a quick and least resistant path.
The guy on third has to tag up and wait for the coach to yell "go".
At the home we stagger these runners; one guy starts off in the box and he runs through first (after touching first he must look inside or at the fence for a possible over throw) and the other one starts slightly up the line and he goes to second (taking a good running angle).
The kids love this drill and get their conditioning and base running practice all at once.