Purpose
Teach players to slide with proper technique in order to master the skill and prevent injury.
Drill Setup
Players line up next to each on the field, starting in the grass before taking this drill to the infield.
Players stands holding a baseball bat above his head with both hands.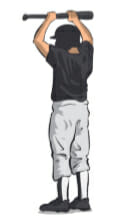 How it Works
1. Coach says "Go."
2. Player takes three steps, forms figure 4 with legs and simply sits down as he slides into the base.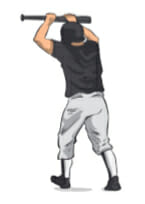 3. Holding the bat above his head teaches the player to keep his hands up to avoid injury.
4. Having his hands above his head also allows the player to pop up easily and head to the next base on an overthrow.
5. When players are comfortable with the sliding technique you can remove the bat.
Coaching Tips
Foot should be tucked under leg to protect the ankle.
Knee should be up and flexible to avoid jamming.
No headfirst slides!
Have players start at the previous base, sprint full speed and slide
Have players start 3 steps away and simply sit down in figure four to slide.